Cycle into the blue!
Helmets on! Explore the Haderslev area on two wheels! There are cycling trails for everyone here: the road cyclist, MTB enthusiast and families with children. Jump on your bike and don't forget your camera to take souvenir photos!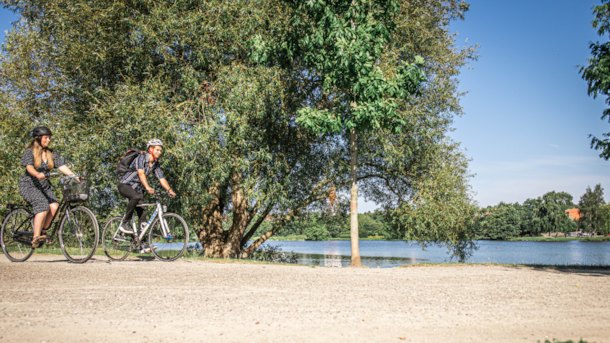 Cycling routes
Do you like to be active in nature? Jump on your bike and explore the many exciting areas, action packed experiences, and stunning nature that Haderslev has to offer.
Oplev den kendte Camino Haderslev Næs
Oplev Sønderjyllands helt egen kulturhistoriske oplevelsesrute: Camino Haderslev Næs. En dansk pendant til den berømte spanske vandrerute Caminoen. Vandreruten er på små 106km og bugter sig mellem 9 smukke kirker gennem det Sønderjyske landskab. 
Bed & Bike - Kvalitetsmærket Cykelferie
Cykelmærkeordningen Bed+Bike viser vej til cykelvenlige overnatnings-steder i hele Danmark. Vælger du et overnatningssted med det blå Bed+Bike skilt, er du sikker på, at du kan stille din cykel i et aflåst skur, få dine dæk pumpet og låne værktøj til eventuelle reparationer. Overnatningssteder, som er Bed+Bike certificerede, stiller alle disse faciliteter til rådighed og sørger for, at du får den bedst mulige cykelferie!
VisitHaderslev © 2023
English