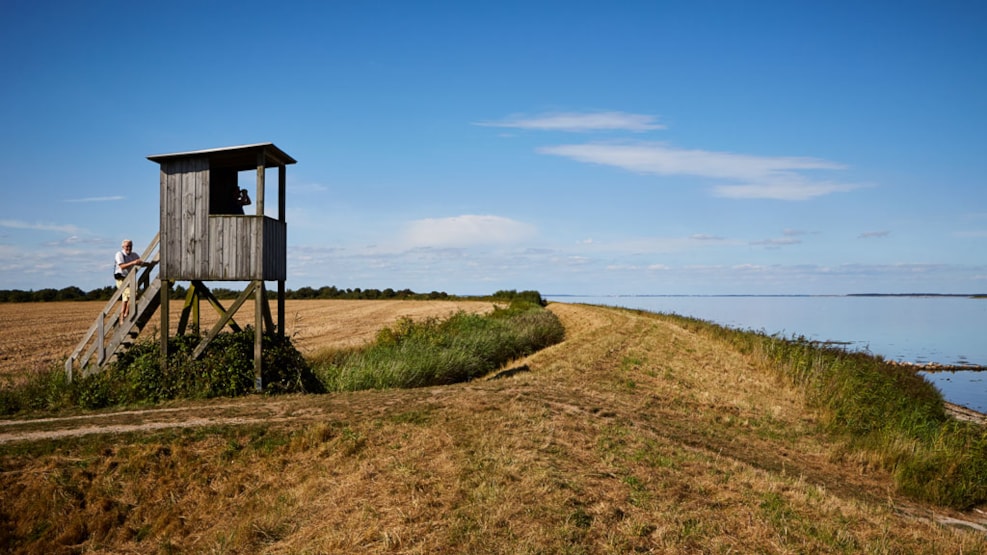 Aarø Bird Sanctuary
Visit the bird sanctuary at Aarø Kalv, where you can enjoy un-spoiled nature, rare plants and many fascinating birds.
Aarø Kalv is formed by material, which the sea current through the Little Belt has eroded from the south side of Aarø. The Kalv is made up of beach ridges made of sand and gravel with intermittent marsh-like areas. The oldest parts are app. 6.000 years old, while the youngest and outmost are from this year, with new material still adding up to the north.
Along the west-side of Aarø there is a similar, but less eye-catching formation around Korsø and Åen. The eastern part of the Kalv is made up of sandy beach and elevated terrain with vegetation typical of dunes, while the western part is made up of low beach meadows with many watering holes. The vegetation here is especially interesting, as it includes lax-flowered sea-lavender (Limonium humile), Pedunculate Sea-purslane (Atriplex pedunculata) and the rare blue lettuce (Lactuca tatarica) - a blue flower of the daisy family, believed to have been brought here on board ships.
Many waders breed at Aarø Kalv, like lapwings, oystercatchers, redshanks, pied avocets and ringed plovers as well as ducks like shovelers, mallards, common teals and common eiders. Notable seagulls and terns are herring gulls, common gulls, black-headed gulls and arctic terns.
During the period March 1st - July 15th all walking and traffic (including sailing) is not allowed at Aar Kalv and in a 50 meter zone in the sea territory of the Kalv.
The restrictions are to protect the birds during the breeding season.