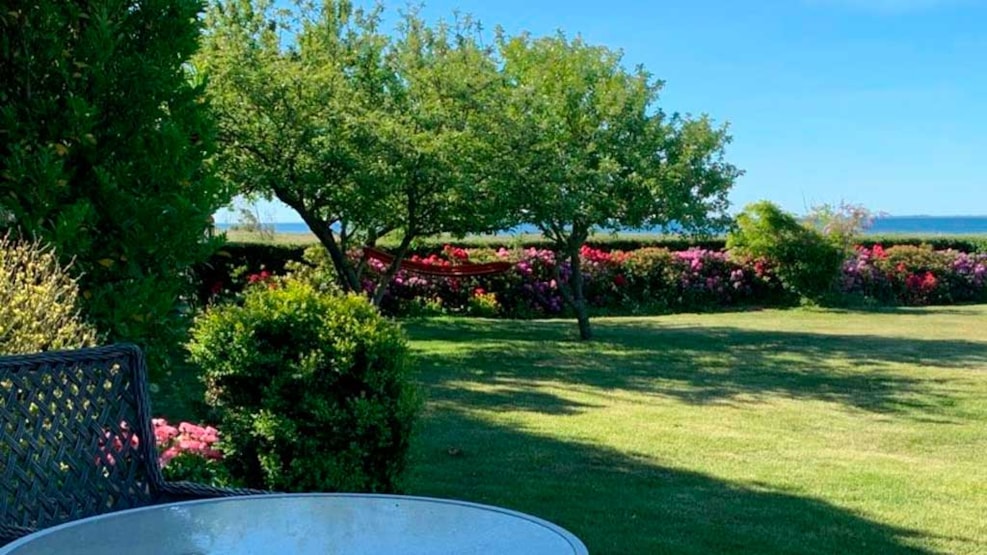 Aarøs blue garden
If you are looking for a place with an astonishing location and amazing view, Aarø's blue garden is just the thing for you.
Aarø's blue garden offers a newly renovated B & B with private entrance, kitchenette with cozy dining area, overlooking the garden and the sea. With private bathroom with shower – also with sea view.
The bedroom is bright and functional. From here you have direct access to the private terrace of the unit. The view cannot be described - it has to be experienced.
From the terrace you can walk through the cosy garden directly down to the beach, which is about 150 meters away.
On the beach there is a private dining area, usually you will have the entire beach for yourself.
Aarø is situated in an international conservation area and the bird sanctuary is only 500 meters away from the property, so you are surrounded by nature.
The host family takes great pride in being able to offer top quality and a personal service to all guests. Special wishes are gladly fulfilled.
Bicycles are available free of charge.
Prices
Overnight stay October to April per Person in double room with ocean view DKK 350, -
Overnight stay April to October per Person in double room DKK 390, -
Overnight stay October to April, single room DKK 375, -
Overnight stay April to October, single room DKK 600, -
Note: The prices include towels and bed linen, but do not include breakfast.
Children under 5 years stay for free.
Breakfast can be purchased for DKK 60, - per person per day.
In the kitchenette you will find a water cooker, a coffee machine, a refrigerator cutlery and utensils. There is coffee and tea available.