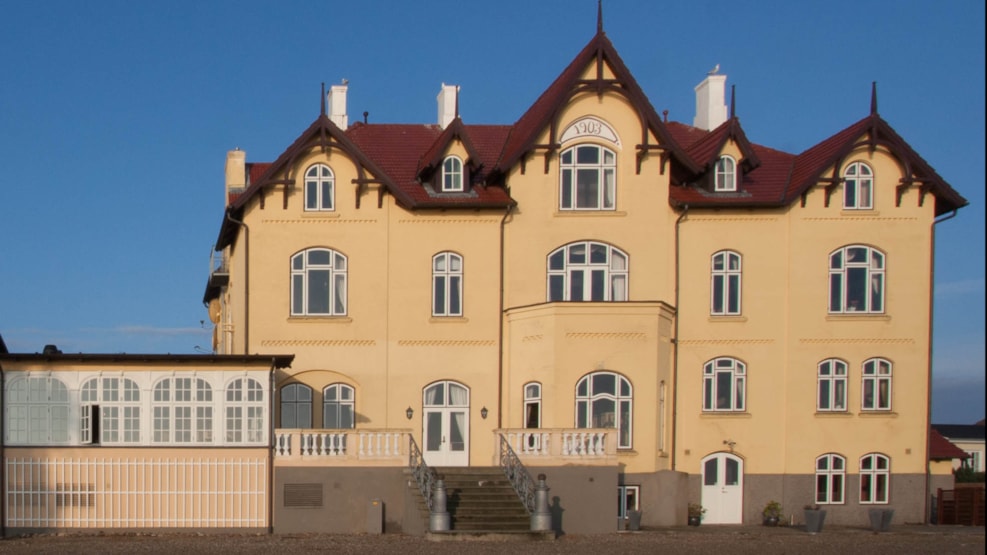 Aarøsund Seaside Hotel
Come to Aarøsund and experience a stay in relaxing surroundings and true historical seaside hotel style.
The hotel's rooms and floors are adorned with antique interiors, the furnishings including a Karen Blixen sofa-set and a Victor Borge piano.
The hotel offers both gourmet and à la carte meals in Kejserstuen, which is open all year round. On the lower floor is Skipperstuen, which opens at easter, and here you will find traditional, solid Danish food. You can also enjoy a fantastic morning buffet or Brunch in Verandastuen during your stay, or just stop by and try one of the splendid menus.
The hotel also offers conference, meeting and course facilities.
There are ample activities to experience during your stay at the seaside hotel. Relax on the beach and walk along the beach path in attractive natural surroundings. Take the ferry to Aarø. The journey only lasts 7 minutes and many experiences await you. There's a large nature playground for kids and you can buy sweets. 
Families can also enjoy a stay at the campsite at Aarøsund, Gammelbro Camping, which has a large playground and swimming pool for children of all ages. There is also a water park half an hour's drive away from the hotel and Legoland is 1 ½ hours away by car.
You can travel directly by bus to the historical town of Haderslev, which has many cultural highlights for visitors. From here, you can take a sailing trip on the paddle steamer Helene out to Aarøsund via Haderslev Fjord and view the hotel from the water.
For prices of rooms and overnight stays, please see the website (in Danish and German only).



Information:
Capacity, parties: 200, 50, 20, 2
Capacity, conferences: 200
Capacity, rooms:
      -  Rooms: 16
      -  Double rooms: 14
      -  Double rooms with sea view: 6
      -  Suites with sea view: 3
      -  Single rooms: 2