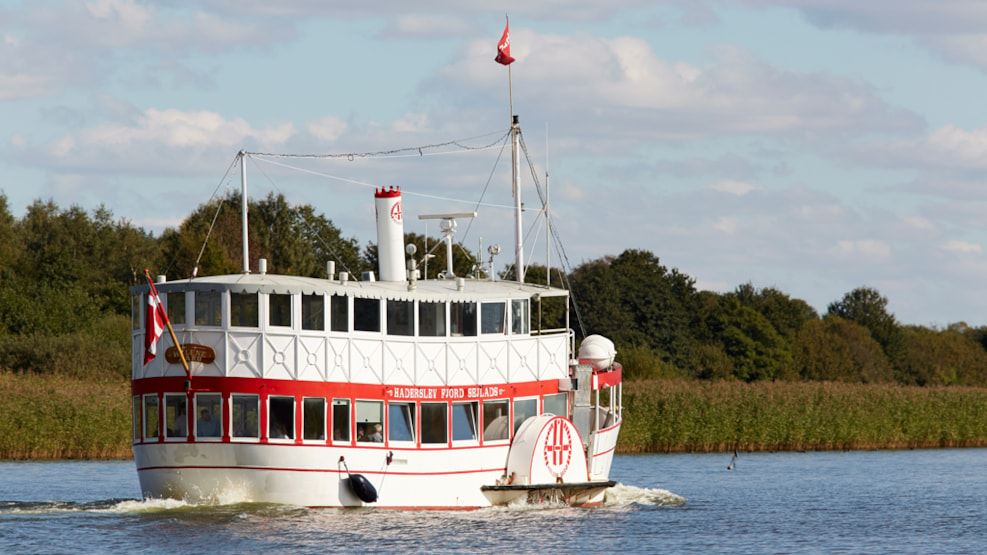 Boattrip with Helene
Experience Haderslev Fjord and Aarø on board the charming boat Helene.
In Haderslev, almost every day from May 1st - October 2nd 2022, you can take a trip out on Haderslev Fjord with Fjordbåden Helene.
On a standard trip Helene sails from Haderslev harbour around noon. The trip goes through Haderslev Fjord which is, with its 12 kilometers, a beautiful nature experience. The trip out of the fjord offers scenic nature and a rich bird life - if you are looking you might spot the eagles that live in the area. During the trip you might spot numbered buoys in the water - on the ship you will find a folder with an overview of the buoys, where you can read all the small stories connected to the area and thus get a guided tour experience.
During the trip it is possible to buy food and drinks. Helene is a sailing restaurant, which carries a varied menu. It is however important to book larger courses a few days ahead. This is due to the small size of the kitchen on board, which means that the food is prepared in advance and brought on board.
The first stop on the trip is the Pearl of the Little Belt, Aarø. Here, you will have a 1 hour stay, where you can explore the island. Pay a visit to the islands very own winery and enjoy a cold glass of white wine while overlooking the fields, visit the Christmas Church or stop by the historic Brummers Gaard, where you can rent bicycles, kayaks, fish nets for children, golf carts and pull carts for the island-visit. End your stay on Aarø with a visit to Aarøs Perle at the harbour, where you can enjoy a well-deserved ice cream before Helene returns to Haderslev.
If you need more time on Aarø, you can always choose to stay longer on the island. Aarø is connected to the mainland by ferry to Aarøsund, and the ferry sails app. every hour. On the mainland you can catch a bus back to Haderslev - always remember to check the bus schedule beforehand. If you brought your bicycle onboard Helene, you can also choose to take the new bicycles path back to Haderslev from Aarøsund.
In addition to the daily trips, Helene hosts several themed cruises throughout the summer. Many are evening trips with a 2 course menu and live music.