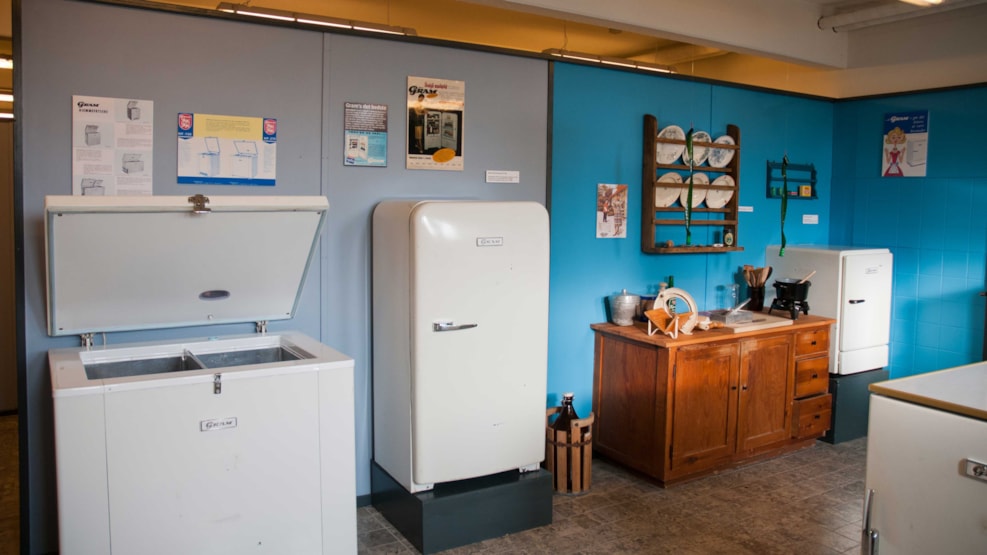 Brødrene Grams Arkiv og Museum
At Danmarksgade in Vojens, you can find Brødrene Grams Arkiv og Museum – A story of modern industry.
Go to Voyens and experience the tale of a village smithy that became a modern industrial story. Learn how a company developed knowhow on all fronts within the fridge-freezer technology. It's also the tale of how the small station town of Woyens developed into the thriving town of Vojens. Voyens is now in Haderslev Kommune (Haderslev Municipality).
The village of Vojens grew along with the company into a modern provincial town. Without the enterprise of Brødrene Gram, there would still be just fields where the town is located today.
After rumours began to spread that the railway was coming to Southern Jutland, the town was established, and after the railway was built, Vojens could thank the foresight of Hans Gram, who had taken the opportunity to establish his company. During the next 100 years, this workplace employed a large proportion of the population of Vojens.
The manufacturer, Hans Gram, constructed a machine workshop covering 100m2 at Vojens in 1901. He was even able to supply whole dairies. Later on, his brother Aage Gram joined the company, which then became known as Brødrene Gram. Over 100 years, the number of employees grew from just a few to around 3500, and the company gained subsidiaries and dealers all over the whole world.
Opening times:
The museum is only open by arrangement.
Write an email to the staff containing the following information:
- Preferred visiting time.
- Number of participants.
- The email address that the answer should be sent to.
 If you want to visit at short notice, please arrange this by telephone.
With group visits you can also order/book:
- Coffee and bread, as well as other refreshments.
- A contribution about  the history of Brødrene Gram or the industry.