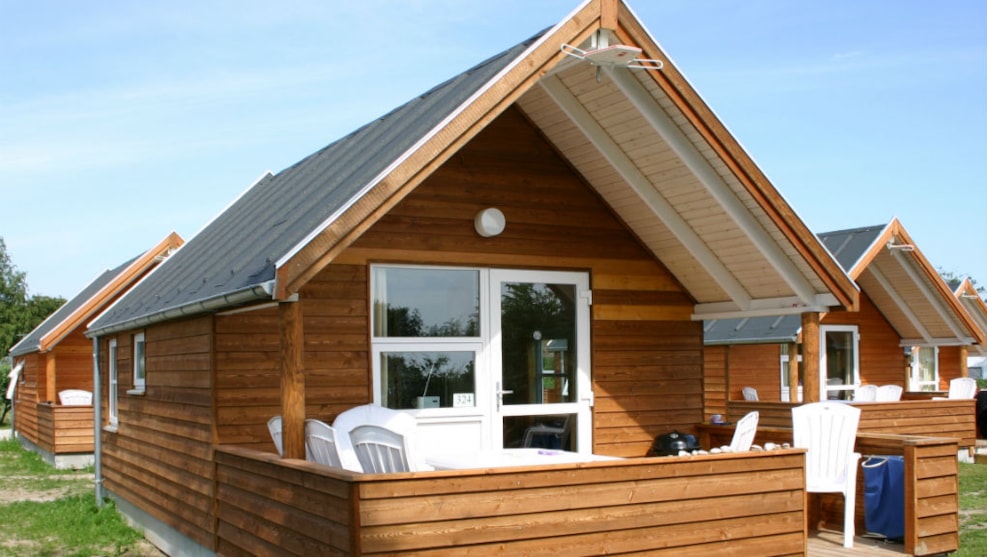 Cabin rental at Sandersvig Camping and Tropical Waterpark
Whether you're looking for sport, waterpark or a comfortable camping vacation Sandersvig Camping and Tropical Waterpark has it all!
Sandersvig Camping and Tropical Waterpark is a modern and family friendly camping ground only 300 meters from a child-friendly beach near the Little Belt. The ground has a large amount of activities for children, especially in the form of several playgrounds and two giant air cushions - one of which is no less than the biggest in Denmark with its 300 m2! The ground also includes tennis courses and offer ball and racket rental. During peak season you can come and learn how to play tennis with an instructor for free.
But the biggest draw at Sandersvig Camping and Tropical Waterpark is, of course, the Tropical Waterpark itself. When the Danish summer is not ideal for outdoor play and bathing, the 800m2 Tropical Waterpark is always 31 degrees (Celsius). The water is 28 degrees and the entire family can swim together in the big pool as it goes gradually from 0 to 1,5 meters in depth. If you are not into waterslides you can relax in the hot tub or perhaps get warm in the sauna. One free entry a day is included when you are staying as a resident on site, including as a resident in the camping cabins.
The cabins at Sandersvig Camping and Tropical Waterpark are 5 star luxury cabins housing up to 6 people. The cabins measure 25 m2, and include two bedrooms - one with a double bed and one with a bunk-bed and extra bed - as well as a small mezzanine floor with two sleeping spaces. The cabins also include a living area with a flatscreen TV with DVD-player, kitchen with freezer/refrigerator, as well as a bathroom and private terrace in front of the cabin.
Pets are only allowed in the cabins by appointment. It is forbidden to smoke in the cabins, and dishrags and dishtowels are not provided. You can bring your own bed sheets or rent them for 50 DKK pr. set. You are required to pay a 300 DKK cleaning deposit, which will be refunded if the cabins is cleaned before check-out.
See pictures of the cabins here.