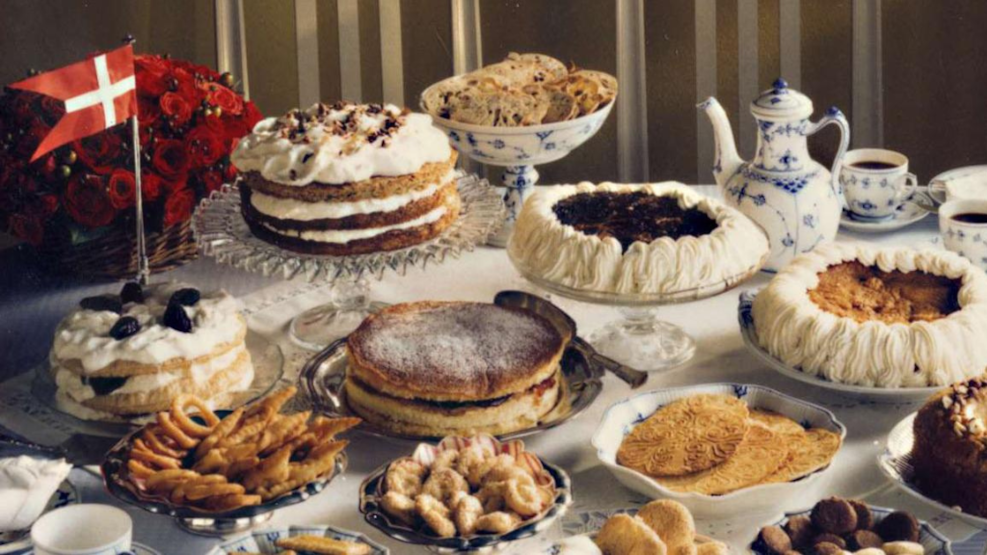 Cakes and Coffee Buffet at Gram Castle
A proper Southern Jutland Cakes and Coffee Buffet is a very special experience. It is probably the best known of all the local traditions.
The history of the great Southern Jutland Cakes and Coffee buffet
After the war, where parts of Southern Jutland came under German control, a need to worship and cultivate Danish culture arose in the Danish minority in the area. More community houses were built, and the Danish minorities would congregate here around Danish songs, the Danish language, and naturally, coffee and cake. But since the kitchens in the community houses were generally small, the women would usually each bring a cake to the functions, and soon it almost became a competition to bring the best cakes.
What does the Cakes and Coffee buffet consist of?
The great Southern Jutland Cakes and Coffee Buffet consists of 7 soft, 7 dry and 7 hard cakes, which are to be eaten in a specific order. You start by laying down a base with buns. Then you move on to the cutting cakes. First the dry and then the more rich: pan-cakes, gingerbread cakes or sistercake, shortbread with cream or rolls. Then comes the pies. There should be at least two, preferably three: striped pie, bread pie and prune pie with whipped cream. If it is one of the large, really good cakes and coffee buffets you would end with a Napoleon. Finally, you take on the hard cakes, which consists of cookies and biscuits. 
Where can I experience the great Southern Jutland Cakes and Coffee Buffet?
Gram Castle serves the great Southern Jutland Cakes and Coffee Buffet on the first Sunday of every month at 2pm. During the summer (weeks 27-32) you can also experience the buffet every Thursday, when Gram Castle holds its weekly Summer Market.
You must book your tickets in advance.
If you would like to combine the great Southern Jutland Cakes and Coffee Buffet with a stay in Southern Jutland, you can find several different kinds of accommodation at Gram Castle. The Castle has four exclusive holiday apartments at Gram Gård, which is located directly by the castle lake and has an amazing view of the castle, as well as several lovely rooms. Both apartments and rooms are rented out on a daily and weekly basis.