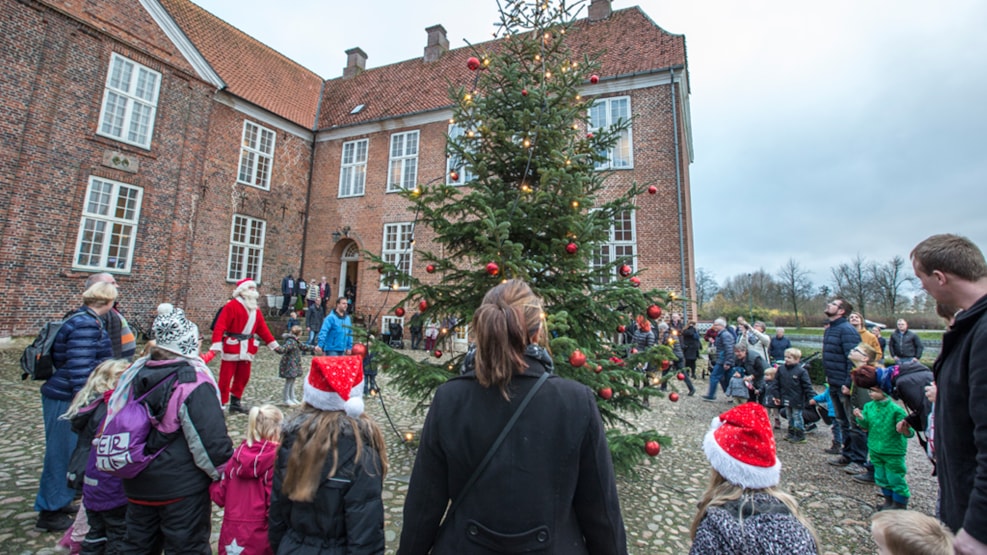 Christmas and adventure at Gram Castle
Meet the elves at the castle, visit the Christmas market and come to fantastic Christmas concerts
Christmas market, pranksters & Christmas concerts
Following two years without a Christmas market, everyone at Gram Slot Castle is looking forward to welcoming the crowds back to a Christmas event that breaks with tradition. The team tweaks the mix to coax a cosy Christmas atmosphere to the fore. The castle itself will be the central venue for Gram Slot Castle's Christmas festivities. 
Discover:
Christmas market in the Barn – handicrafts and Christmas treats
A Christmas-clad fairy-tale castle with lots of mischievous elves
Visitors are invited to explore the corridors and chambers of the castle. Watch out, the Christmas spirit will grab you when you least expect it! The castle will be decorated from attic to cellar. On Saturday and Sunday, lively elves (actors) will entertain as they prepare for their Christmas festivities. We apologise in advance for our mischievous elves. Now and again, they may be tempted to tease our visitors! 
If you visit the castle on Thursday and Friday, the Christmas elves will be eating their traditional Danish rice pudding with the cattle. The elves will not be present at the castle. 
Price of a magical Gram Slot Christmas:
Thursday and Friday: Infants 0-4 yrs FREE, Children 5-12 yrs DKK 30 / Adults (13-99 yrs) DKK 60
Saturday and Sunday: Infants 0-4 yrs FREE, Children 5-12 yrs DKK 40 / Adults (13-99 yrs) DKK 75
Magical Christmas tales at the Castle
Every Thursday, Friday, Saturday and Sunday, there is an opportunity to watch an authentic Christmas performance. In a festive chamber, decorated for Christmas, we either read or perform a fairy tale. Entertainment for everyone from 0-99! 
Price per person (25-minute performance): DKK 50.
Audiowalk in the Castle Park
If you like to listen to stories and love the frosty winter air, you can download and listen to a very special Christmas narrative as you follow the path around the castle lake and through the park. Download the story from our link/app and listen to it played on your phone or tablet as you walk. 
Price per download: DKK 20. 
Delicious food in Gramgaard Restaurant
Christmas concerts
On 30 November, you can enjoy a concert with Sigurd Barrett and his teddy bear, Bjørnen Bjørn, backed by a large children's choir from schools in Haderslev Municipality. 
On 3 December, tenor Paul Potts visits Gram Slot Castle and gives a Christmas concert in the Holstein Barn.
On 17 December, Julie Berthelsen will give a heart-warming vocal performance. Julie will be accompanied by her own orchestra and choral singers. 
When?
The Castle, restaurant and crafts fair are all open on Thursday, Friday, Saturday and Sunday in the period 1-18 December. Christmas concerts, readings and other events will be held on specific dates. To make yours the best possible Christmas, check out our programme and book all the entertainment you wish. See full programme here.