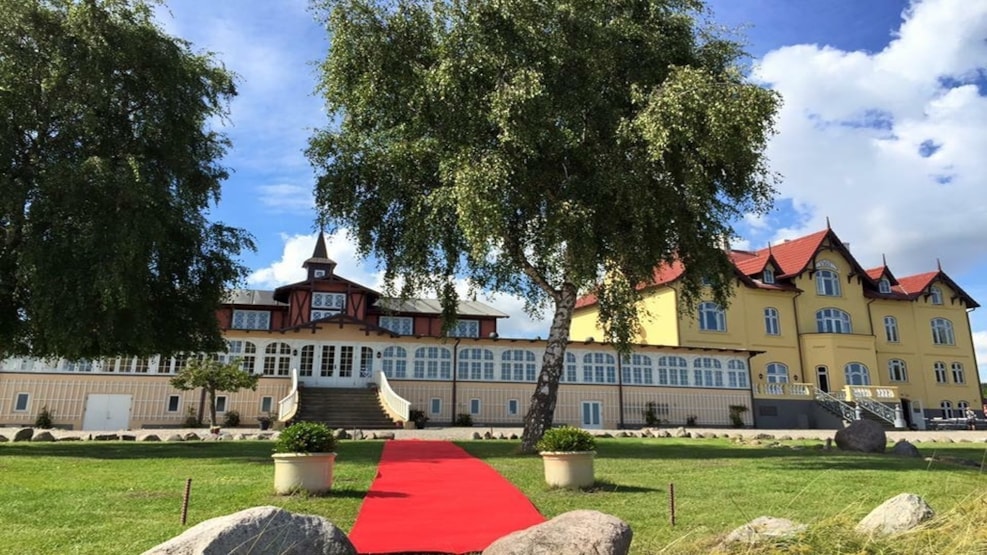 The cosy harbour-town Aarøsund
With white sandy beaches spreading out towards both the north and south, you will find the cosy old harbour town Aarøsund right beside the Little Belt.
Here, you can take a walk by the harbour, eat lunch or an ice cream or enjoy a dinner at the beautiful and respectfully renovated Aarøsund Seaside Resort, where you can experience the true seaside resort vibe from the 1930s. The resort lies with the porch directly onto the beach.
Aarøsund harbour has also recently had a new pier-path constructed so that everyone - including the walking impaired and wheel-chair users - can take a walk on the 300 meter long pier and enjoy the scenic views of the Little Belt.
Just south of Aarøsund you will find Gammelbro Camping, the campsite lies directly by the water. There are many possibilities for bathing, swimming, fishing, diving, snorkelling and surfing. The campsite also has a swimming pool, which also may be used by guests who do not stay at the campsite. 
You can travel directly by bus to the historical town of Haderslev, which has many cultural highlights for visitors. From here, you can take a sailing trip on the paddle steamer Helene out to Aarøsund via Haderslev Fjord and see the town from the water.
The ferry crossing to idyllic Aarø takes just under 8 minutes. Visit the island's very own winery, enjoy a glass of cold white wine while looking out over the fields, visit the charming Christmas Church, give the kids a break on the large natural playground, enjoy a round of parkgolf and stop by the historic Brummer's Gaard, where you can rent bicycles, sea kayaks, fishing nets for children, golf carts and pull carts for your island trip. Aarø also has an impressive wild-life sanctuary, a harbour kiosk which offers dinner and lunch, several cafés with delicious food on offer and a camping ground with a playground and a mini-market.