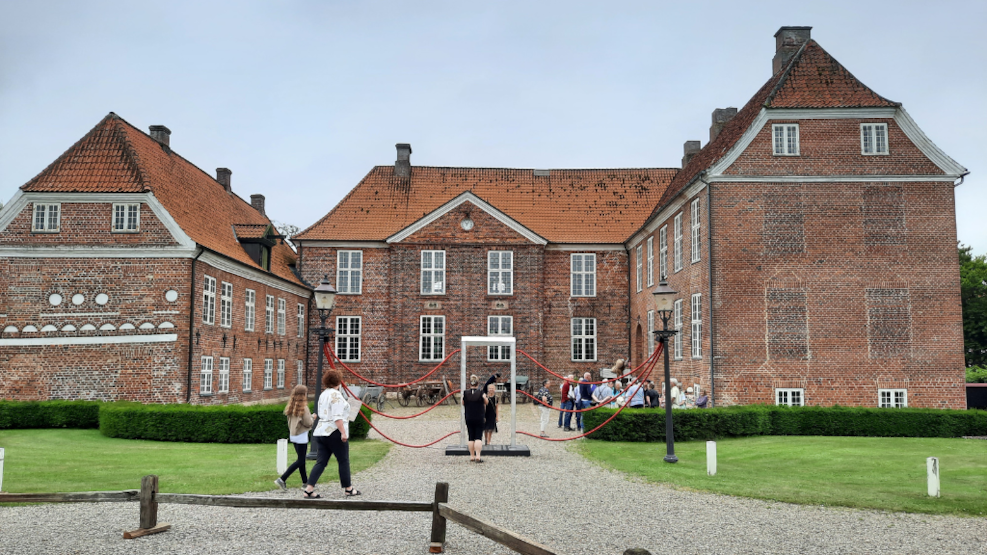 The Gram Castle Mystery
Travel back in time and become a detective at the castle. Keep track of the castle's residents and their stories as you try to solve the riddle of the lost heart. 
Detective Riddle – "The Feast"
New summer mystery for families to enjoy. Open 3 July – 5 August
Open from 10:00-16:00 – Thursdays from 10:00-17:00 – Saturdays closed
Following up on last year's great success, when thousands of detectives of all ages helped solve mysteries at the castle,  Gram Castle invites you to join an awesome detective riddle at the castle. The new story, entitled "The Feast", offers new and surprising puzzles, enigmatic personalities and mysterious events.
A huge book has landed at the centre of the castle courtyard. Via several puzzles of varying degrees of difficulty, you work your way through the book. You are an invisible sleuth, and you are immersed in the drama around you. Using your eyes, ears, a magnifying glass and your best detective's instincts, you move around the castle at will, watching the actors carefully and looking for clues.
Whether you are most interested in resolving the riddles, enjoying the historical environment and our fantastic theatrical scenery or prefer to follow the comings and goings of our intriguing characters, there are several hours of entertainment here in Gram Castle and its beautiful park. Experience dictates that it takes 1-2 hours to solve the riddles – depending on your detective skills on the day.
TICKET SALES OPEN ON 10 JULY
We recommend that you book tickets in advance, as this event is often fully booked at certain times of the day. You can also buy tickets at the door. We accept cash and debit card payments.
When you book online, you book to attend at a specific time (e.g. arriving between 10:00 and 10:30). Guests are kindly requested to arrive within the arrival window, as this helps us avoid having too many people in the castle at any one time.
When you take part in the detective riddle at the castle, you are welcome also to visit our natural playground, greet Mr & Mrs Pig and the horses and chickens at our mini-zoo, and enjoy an ice cream or lunch at our café.
Guests are also welcome to bring their own picnic lunch to enjoy in the castle park.