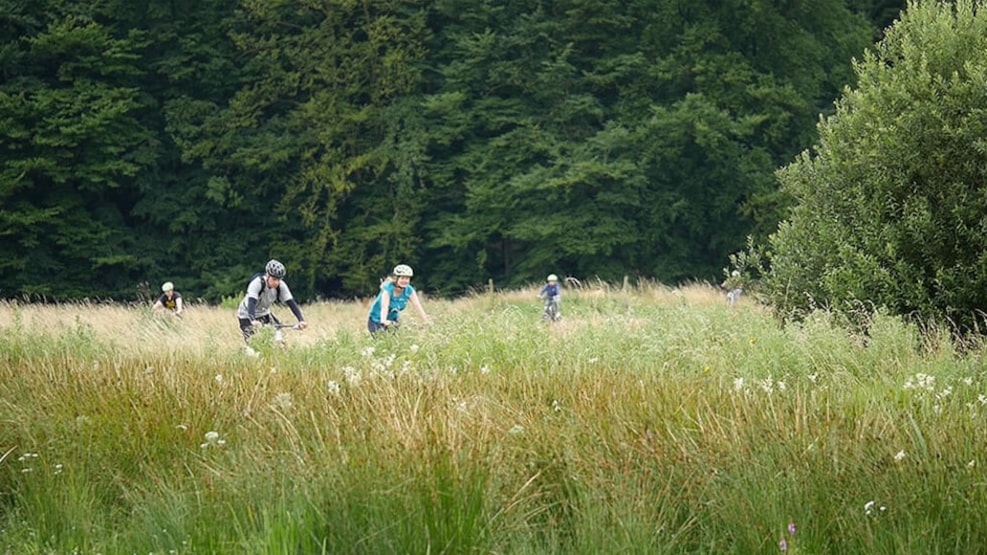 Guided MTB trips
Experience Haderslev from its best side on 2 wheels with a guided mountain bike trip.
See Haderslev on a Guided MTB Tour
Haderslev has beautiful natural surroundings. We have many signposted mountainbike trails so there are plenty of opportunities to experience and explore our natural environment. Skovcykling offers Guided MTB Tours. We adapt your Guided MTB Tour to match your needs and wishes. Are you looking for a memorable trip through our forests or countryside? Or are you hoping for a hardcore trip on our many MTB trails? Maybe you'd like training in MTB techniques? The only limitations are your time, your cycling skills and the shape you are in. 
A Guided MTB Tour in the forest takes you via Geheimerådens Sti (path) from Haderslev to the Deer Park, into Pamhule Forest and around Hindemade Lake. On this tour, we are sure to meet deer in the Deer Park. We take a break at Sophie's Spring. The water in Sophie's Spring contains 100 times more iron than tap water. It is suitable for drinking.
Price Guided MTB Tour (up to 2-3 hours):
DKK 295 per person (Max. 8 people)
Private lesson (60 minutes): DKK 350
If you do not have a mountainbike of your own, it may be possible to hire one. We have a limited number of bikes available to hire. Book early to avoid disappointment.