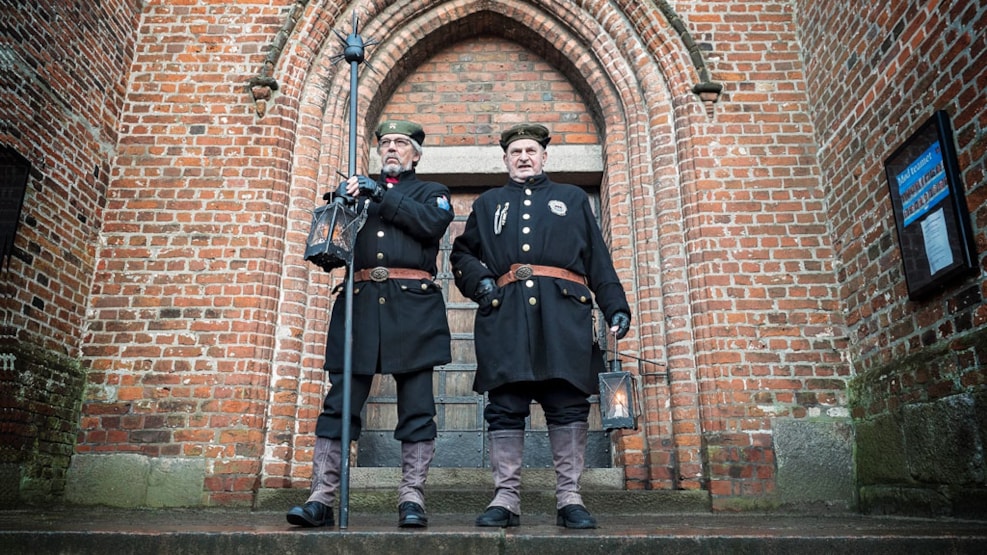 Guided walk with the Night Watchmen
Follow the Night Watchmen - hear the Watchmen-verses and the thrilling histories of Haderslev.
During the 13th century various night watch guilds emerged in many Danish towns. They were meant to upkeep peace and order in the streets of the city at night, as well as to extinguish fires.  From 1550, first Copenhagen, and then the towns Helsingør, Kolding, Ribe and Haderslev and more, had actual Night Watchmen, to secure peace and quiet in the dark streets.
You can experience the night watchmen in Haderslev, on their evening tour through the old streets of the city every Tuesday and Thursday (week 26-36). The night watchmen walks start in front of the Cathedral at 8.30pm and the entire tour takes about 1 hour. The night watchmen wear a uniform and weapons, which have been modeled on a night watch uniform from 18th century. Adults DKK 40,- Children until 14 years old are free.
An exciting experience for adults and children alike, where you can truly feel history come alive.