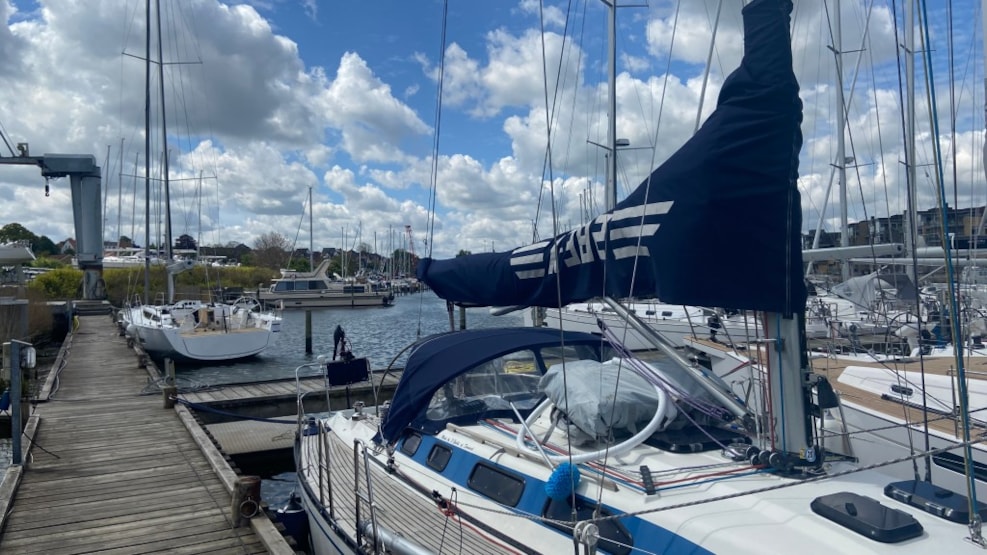 Haderslev Marina South
Cosy harbour at the bottom of Haderslev Fjord, close to shopping and sights.
Haderslev Fjord is a 15 kilometer long, narrow and winding fjord, that cuts into Southern Jutland from the Little Belt. Here you will always find something new to see, and the trip through one of Denmark's most beautiful fjords is stunning. Haderslev Harbour lies at the heart of the city, with only a short distance to shopping and sights.
The northside of Haderslev Harbour is owned by the municipality, and the southside of the harbour is home to Haderslev Sejl Club (HSC), which also has an autocamper-site, and after HSC lies Haderslev Sejlforening (HSF). Make sure to pay your harbour fee at the correct club.
Haderslev Sejl Club (HSC):
Here you will find 10 spots reserved for guests infront of the club-house, but all spots belonging to the club are available for guests, when showing green.
The Club House and "The Galley" are partially open, and the 3 barbecue spots, one of them roofed, is well protected in the clubs area, so they can be used in all kinds of weather.
The Club House was extended in the spring of 2019 with a 73m2 servicebuilding with new toilet- and shower facilities, including two familyrooms and a handicap-toilet.
There is also a washer and dryer. Internet, water and electricity is included in the harbour fee. WiFi-password and misc. passwords can be seen on the receipt. There is a payment machine for paying the harbour fee as well as for purchasing a harbour-pass, giving access to shower, washer and dryer facilities. 
Haderslev Sejlforening (HSF):
When you can sail no further, you are a HSF. Spots marked "Gæst" are reserved for guests, but all spots showing green are of course free to use. Shower- and toilet facilities as well as an outdoor kitchen is easily accessible next to the club house. You will also find 2 barbecue spots, one of which, "Grotten", is roofed. "Ty i Ly" is a roofed terrace free to use. There is also an open roof-deck with tables, benches and parasols free to use. From this terrace there is a lovely view of the harbour area.
By the entrance to the harbour office you will find the payment machine, where you can pay the harbour fee. Everything is included in the harbour fee, which means: electricity, water, shower, Internet and bikes.