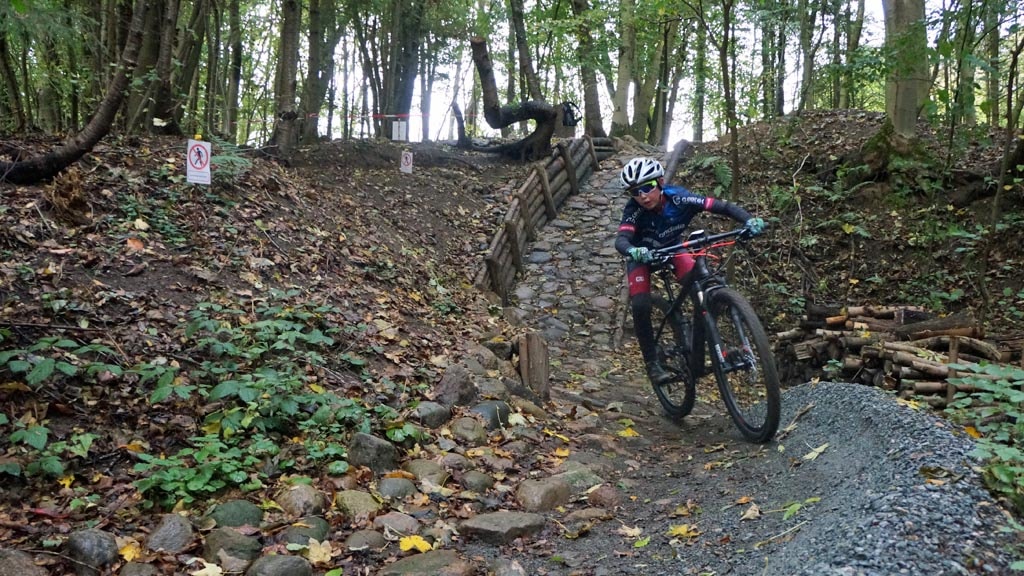 Himmelpind Bike Park
Vejle's probably highest mountain bike trail is located in the district of Trædballe west of downtown. The preserved wooded hill is best known for its magnificent views of Vejle and the river valley of Vejle Ådal. The lookout point at Himmelpind is located at a height of approximately 69 metres. This is where local mountain bike enthusiasts have established a technically demanding mountain bike trail.
Over 330 tons of building materials have been hauled up on Himmelpind to create a technical track of just 550 metres. Despite its modest length, the track features everything needed to get your pulse racing and challenge even the best of riders. Himmelpind Bike Park features loops, technical turns, ups and downs and several obstacles, including natural roots, drops, hops, rock gardens and berms.
Himmelpind Bike Park is for the experienced mountain bikers, but everyone is welcome. It's the perfect trail to practice techniques, play around and just have fun. The woodland ascents are perfectly suited to mountain biking. There are also plans to expand the trail in the future, maybe even to double the length.
Himmelpind is the perfect picnic spot. Here there are tables, benches and barbecues along with nature trails leading around the area.
There are signs to Himmelpind from Vardevej and on from here to the mountain bike trail. The steady ascent to Himmelpind runs along a road and stairway. Parking is available in the car park 170 metres from Himmelpind.
The history of Himmelpind
Himmelpind became famous in the 1930s when the innkeeper at Trædballehus Kro, which lay at the foot of the hill, had a pleasure garden landscaped on the hilltop and arranged festivities with folk music. Frederik Iversen was a musician himself and wrote the popular Trædballehuspolka. People flocked to the dances and the first-ever live Danish radio broadcast was a transmission from Trædballehus. Later, this excursion destination was expanded with an open-air stage and racetrack.
In 1958, "Trædballe Zoo" opened on Himmelpind with many different kinds of animals, including elephants, lions, sea lions and penguins. In 1971, the animals were moved to the present Givskud Zoo and the old buildings were demolished, after which the site became a listed spot of natural beauty.
Himmelpind was completely overgrown in 1996 when a group of volunteers bought the area, cleaned it up and formed the support association "Himmelpinds Venner" to raise funds for the maintenance of the area. The association has, e.g., provided information signs about the animals in the former zoo.
At the top of Himmelpind you can today still find a large stone erected by Frederik Iversen with the inscription: "Would you the soul and mind sooth, look out from Himmelpind, meadow and city and forest and inlet, wonderful is God's green Earth."