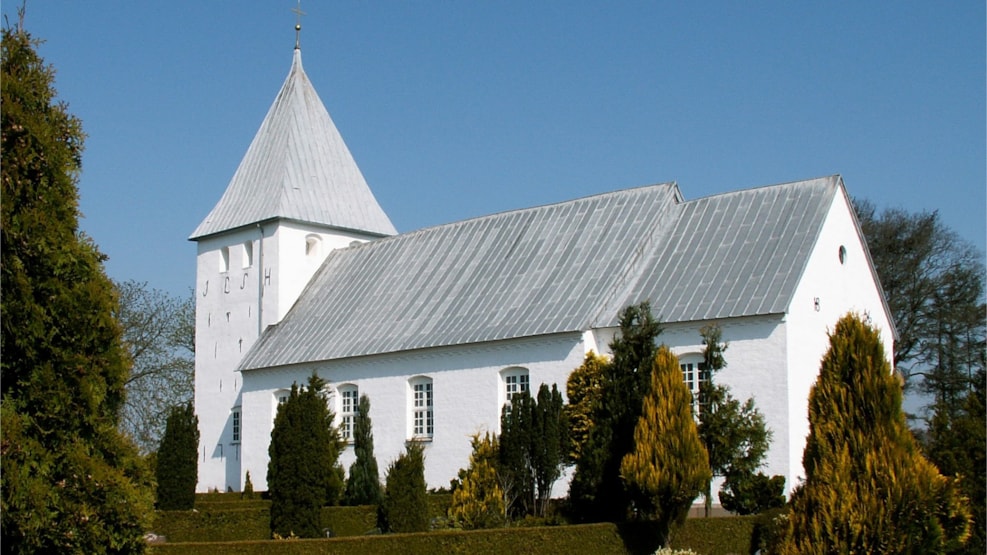 Højrup Church, Gram
Village church with scenic views of the Gelså-valley.
Højrup church was built around the year 1200, and consists of a highly remodelled Romanesque nave and choir, which has now been whitewashed and lead clad. The population at the time chose of the best locations in the area for their church; it is visible for miles and has a stunning view of the Gelså-valley.
The alterpiece is a late-Gothic winged alterpiece from the mid 1400s, with Baroque elements added in 1716. The center panel depicts Christ judging the world, flanked by four saints: Saint George, Saint Gertrude of Nivelles, Saint Catherine of Alexandria and Saint Lawrence. The wings depicts the 12 apostles.
The pulpit is a simple piece in the renaissance-style from 1582, depicting the four evangelists in the painted squares from the 1700s, where the pulpit also had a sounding board added. The baptismal font is a simple granite font carved in 1933. In 2010, the church had its old original baptismal font made out of marble from Gotland returned from Flensborg Museum. The organ is from Marcussen & Søn in Aabenraa.
During the reformation, the church belonged to the territorial lord and from 1544 it belonged to Duke Hans. Following the death of the Duke in 1580 the church passed to the crown, and today it belongs to the Danish National Church.