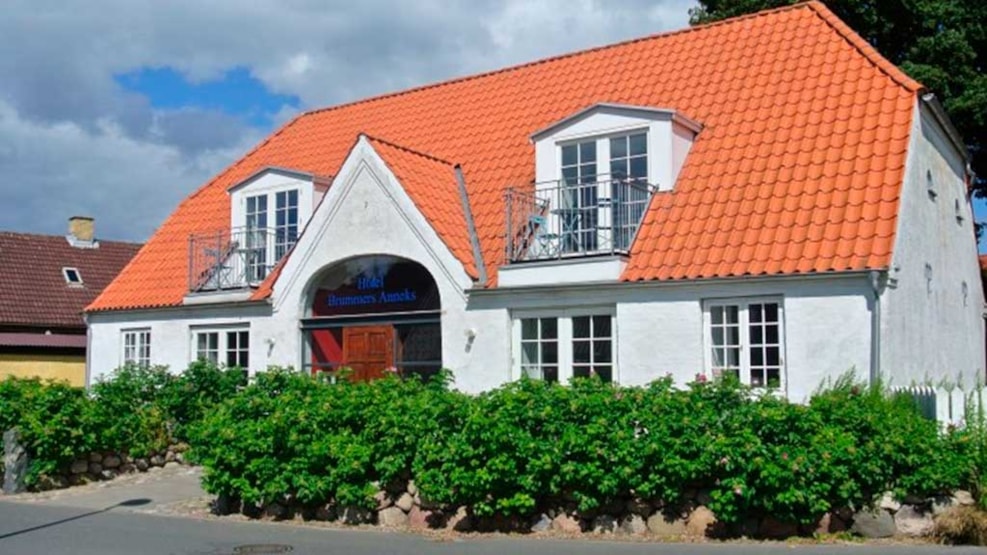 Hotel Brummer's Anneks
Book a room in beautiful surroundings at Brummer's Anneks and get the true island experience on Aarø.
Take the ship Helene from Haderslev or the daily ferry from Aarøsund to Aarø. Brummer's Annex is located 300m from the ferry landing and is easy to find. There are lots of things to do, and you can always enjoy the view of the Little Belt. Take a stroll at the harbour and get an ice cream, visit Årø Vinyard and enjoy a chilled glass of the local white wine or rent a golfcart at Brummer's Gaard and ride off to explore the island. 
Room types at Brummer's Anneks:
2 suites (each 51m2), unique and charming establishments, a separate bedroom, living room, kitchenette and private bathroom, well suited for wheelchair users. The rooms include a patio and breakfast in the morning. DKK 899 pr. night for 2 people. 
2 juniorsuites (38m2), furnished with living area, kitchenette, bathroom and toilet. The rooms include balcony and breakfast in the morning. DKK 799 pr. night for 2 people.
3 Single rooms with kitchenette, private bath and toilet, incl. breakfast. DKK 650 pr. night.
3 people :DKK 1.199 - children under the age of 2 are free when sleeping in their parents' bed.
All room types include WiFi, TV, access to free parking space and locked shed for bicycles. Pets are allowed by agreement. Breakfast for DKK 80,-. Smoking is prohibited in all rooms. 
Check in from 2:00pm to 10:00pm (all year round).
Within walking distance of Brummer's Annex you will find the following:
- Brummer's Gaard (restaurant and café with island specialties and culinary experiences)
- Bike rental and rental of golf cars
- Årø Winery with its own vineyards
- Farm shops where you can buy meat and vegetables.
- Park Golf
- Natural Playground
- Mini Market at Aarø Camping
- Aarø calf, nature reserve
- Cozy harbor environment with good fishing opportunities and beaches
- Ferry Sailing hourly to the mainland( see schedule on www.haderslev.dk) and good bus connections to Haderslev.