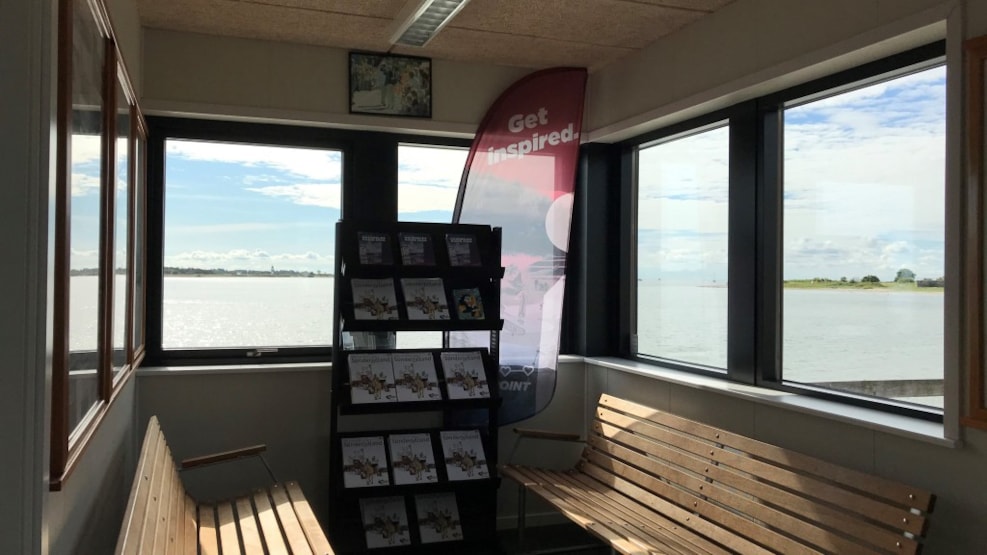 Infopoint - Aarø Ferry
Find inspiration for experiences near the Aarø Ferry and in all of Haderslev Municipality.
While holidaying in Haderslev Municipality, there are 10 different infopoints to visit. Each has a stand with brochures and a screen showing local attractions and experiences, places to eat, accommodation and activities. There is a notebook at each stand that you can use to make note of your plans. Manned infopoints are open during the hours of opening at their location. 
Aarøsund harbour is a lovely harbour facing the Little Belt. Here you will find lovely sand beaches, a great handicap-friendly path on the pier, good fishing opportunities, a harbour grill where you can buy classic grill dishes and delicious ice cream waffles, and of course the beautiful Aarøsund Seaside Resort, which lies with a veranda right down to the beach. The resort has been thoroughly renovated with respect for the history of the place, and here you can experience the true seaside-vibe of the 30s. It is only an 8 minute crossing with the ferry to lovely Aarø, where you will find lots of experiences; rent a golf cart at Brummer's Gaard or Aarø's Perle and take a trip around the island and end with a lunch at one of the many places to eat on the island. 
Here, you can see all the infopoints in Haderslev Municipality:
Infopoints (manned): 
Haderslev Turist information, Apotekergade 11, 6100 Haderslev

Danhostel (hostel), Erlevvej 34, 6100 Haderslev 

Gammelbro Camping (camp site), Gammelbrovej 70, 6100 Haderslev 

Sandersvig Camping & Tropical Waterpark (camp site), Espagervej 15, 6100 Haderslev
Infopoints (unmanned): 
Tørning Mølle (historical centre), Tørningvej 6, 6500 Vojens 

Aarøsund Ferry, Aarøsund Havn 1, 6100 Haderslev

Årø Winery, Aarø 210, 6100 Haderslev 

Bispen Cultural Centre, Bispebroen 3, 6100 Haderslev. 

Gram Leisure Centre, Stadionvej 15, 6510 Gram 

Gram Castle, Slotsvej 54, 6510 Gram

Vojens Hallerne, Stadion Parken 6, 6500 Vojens