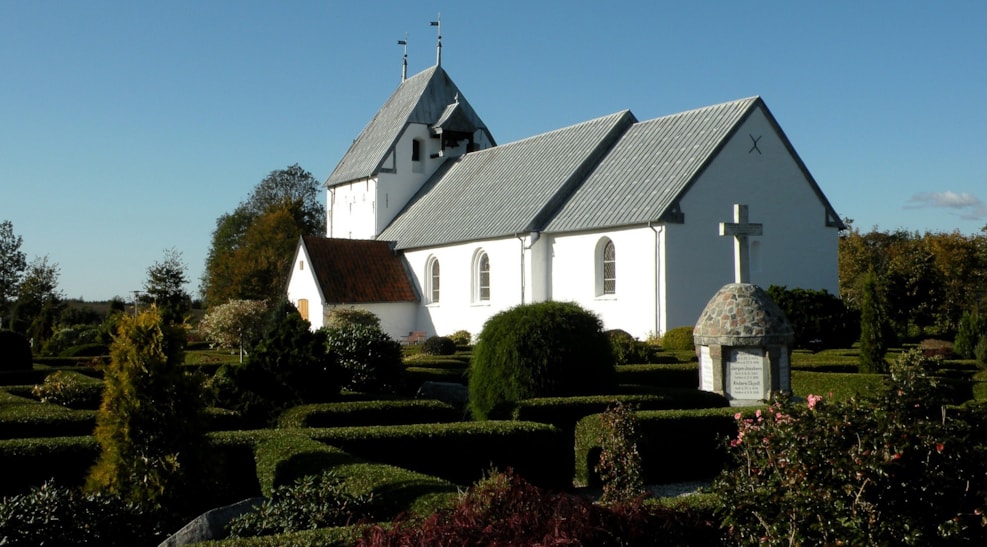 Jegerup Church
Jegerup Church is one of the oldest in Haderslev diocese and amongst other fixtures includes a special alterpiece.
Jegerup church is a whitewashed Romanesque church with choir and nave. Two late-Gothic buildings were added later: A tower on the western side and a weaponhouse to the south. In 1905 a sacristy was added to the northern side of the church. The inside of the church is also whitewashed and the flat ceiling is in plaster with stucco, the choir arch has been changed into a pointed arch.
The alterpiece is from 1614 and was bought from Øsby Church in 1838, but had to be reduced to fit into the choir. The motive in the centre depicts the last supper and in the wings are the Binding of Isac and the Crucifixion, painted in 1769.
 
The former alterpiece has been restored and in 1949 paintings by J. Th. Skovgaard were added. The figures from another former Gothic alterpiece from around 1400 has been preserved, and these figures are thought to be some of the oldest alterpiece-figures in Denmark.
 
The baptismal font is a Romanesque granite font, with the base shaped as a church with two towers and three apses. The organ was made by Marcussen & Son in 1890 and restored in 1943.