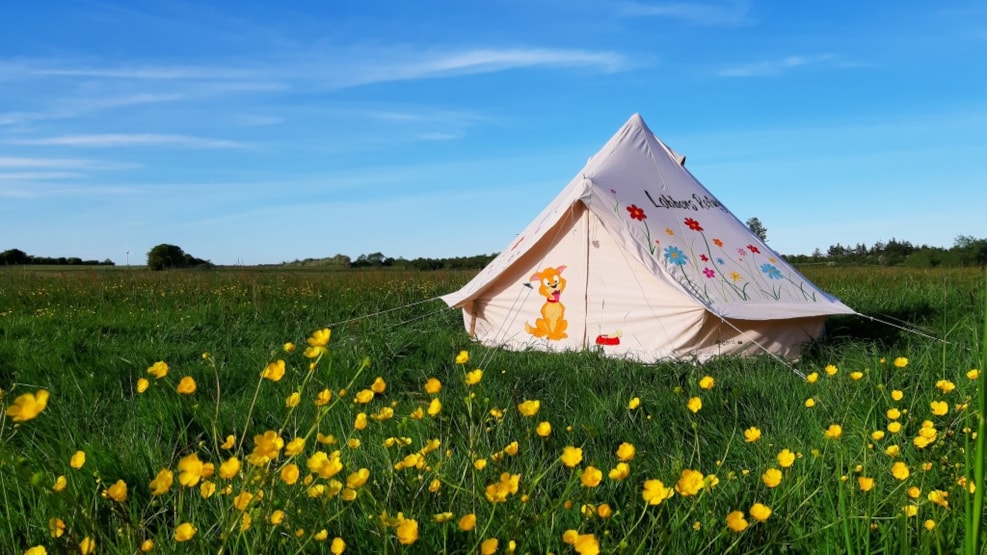 Lobber's Refuge
Experience the wonderful nature near Gram in a different and comfortable way with mini-glamping at Lobber's Refuge.
Welcome to Lobber's Refuge, which offers mini-glamping in a unique, hand-painted tent. Usually, the tent will be sitting on a scenic and peaceful meadow next to Fladså. A lovely place with lots of room and fresh air. Notice, it is not possible to drive all the way to the tent. Because of wind and weather it may not always be possible to spend the night in the meadow, in that case the tent will be raised in the closed garden near the main house.
The tent has room for 2 people. The beds will be made with lovely duvets, pillows, blankets and comfortable mattresses. When nature allows, you will find a fire dish and firewood available. 
WiFi, shower and toilet can be found in the main house on the farm.
In the garden there is also a free-to-use roofed fire-kitchen.
You can also order breakfast and other meals on site.