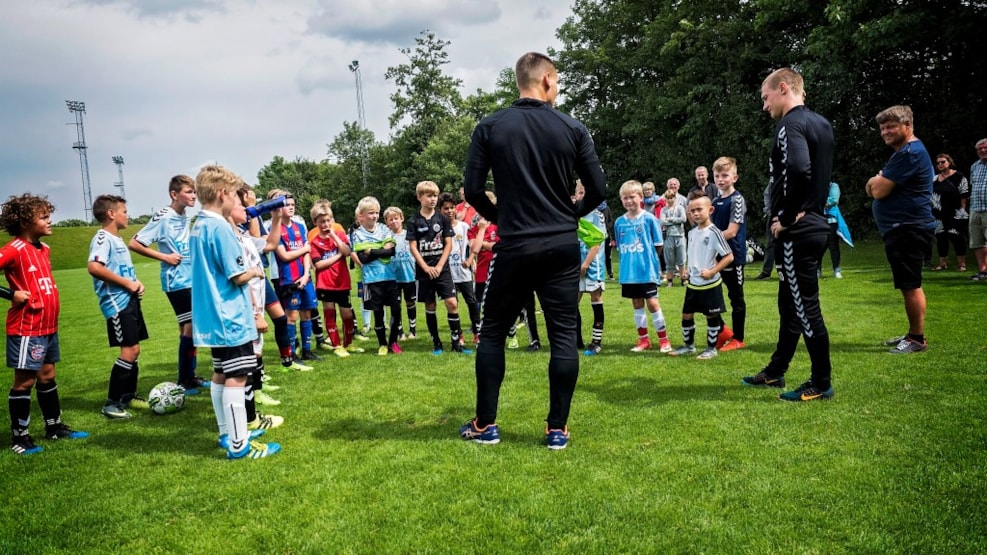 Practice with a Superliga player
Do you have a Superliga player in you? Now every fresh boy and girl aged 8-12 can try to practice football with a Superliga player!
The Danish Superliga club SønderjyskE in collaboration with Haderslev Idrætscenter and Haderslev Fodboldklub offer a very special football experience for the 8-12 year olds in the family - the chance to practice football with a Superliga player.
The practice takes 45 minutes and concludes with a penalty shootout. After practice you will have the opportunity to get autographs and go on a guided tour of the new big Sydbank Park stadium. On the tour you will hear about the reasons behind SønderjyskE's Superliga success. We finish the tour with a soft drink in the lounge. Siblings and parents are welcome to watch the practice and join the tour for free.
There is an opportunity to buy a delicious and homemade HIClub Sandwich at Haderslev Idrætscenter's café.
The event only takes place during the fall vacation, as part of the offers included in the FunCard in Haderslev.
Practical information
For boys and girls ages 8-12.
Bring your own sportswear and football boots.
The children must be dressed and ready for training at the designated starting time.
Changing can take place in Haderslev Idrætscenters changing rooms.
The event will only be held with a minimum of 10 participants.
The event can be cancelled in case of changes in SønderjyskE's match schedule.
Prices and booking
Price per person: 75,- DKK per player (spectators free).
Booking 2 days in advance before 12.
Book here.