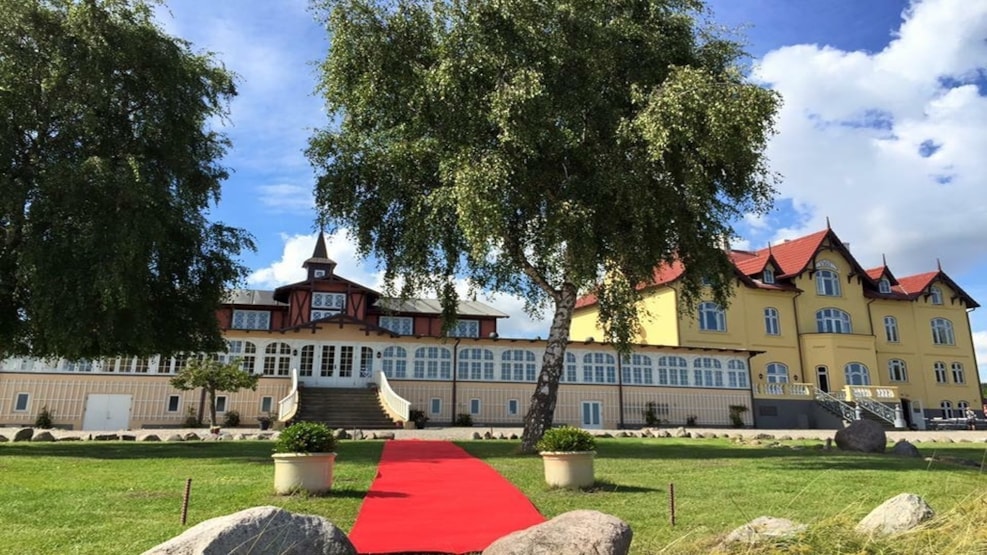 Restaurant Aarøsund Badehotel
Dine in beautiful surroundings.
Aarøsund Badehotel - a romantic seaside hotel placed in beautiful surroundings with direct access to the beach.
The Skipperroom has a terrace overlooking the beach and the water. The entrance is from the beach side or through the door to the left of the main entrance on the front side of the hotel. Remember to always order a table and please remember to mention, that you wish to dine in the Skipperroom, since the two rooms are divided into two restaurants.
The Skipperroom is open Monday-Friday 16.00-21.00 and Saturday-Sunday 12.00-21.00
The Kaiserroom is the gourmet and a'la carte Restaurant at Aarøsund Badehotel. The Kaiserroom is has a gorgeous view of the beach and the sea. The interior decorations include Karen Blixens sofas, a painting of Kaiser Wilhelm and Hammershus as well as a pompous bar counter.
The gourmet menu consists of 6 seasonal dishes, that are made with the ingredients of the season. Wines are chosen from a varied wine selection or as a wine menu, where the wine is adjusted to the chosen menu.
The beer is delivered from the local brewery Fuglsang.
The a'la carte dishes consist of well known Danish dishes, which aside from appetizers and desserts includes roasted plaice, schnitzel or steak.
Please notice that from September to April the Kaiserroom is closed on Mondays.