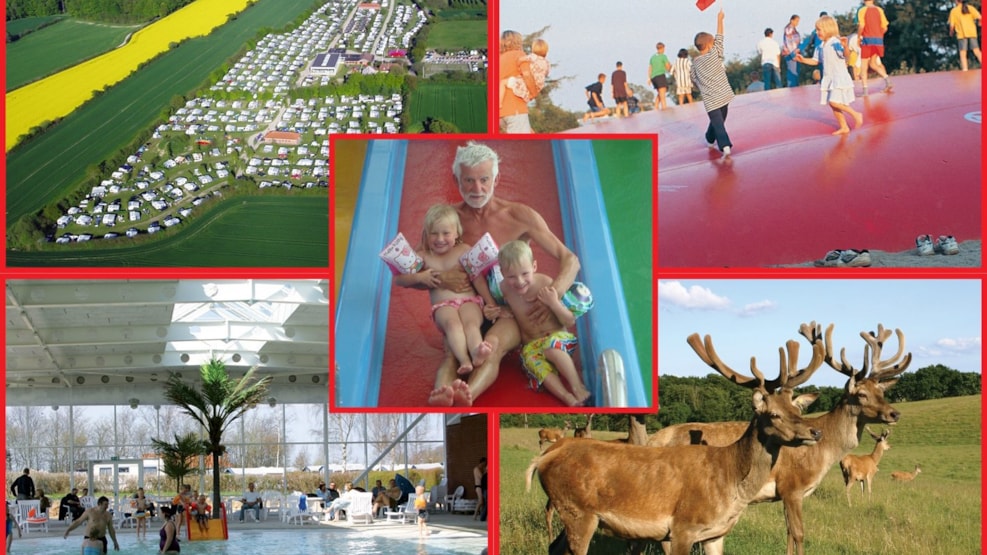 Sandersvig Camping and Tropical Waterpark
Camping holiday for the whole family, close to a sandy beach, good facilities and with its own deer park.
Family-friendly campsite with lots of animals and its own tropical land
Sandersvig Camping and Tropical Waterpark is a modern and family friendly camping ground only 300 meters from a child-friendly beach near the Little Belt. The ground has a large amount of activities for children, especially in the form of several playgrounds and two giant air cushions - one of which is no less than the biggest in Denmark with its 300 m2! The ground also includes tennis courses and offer ball and racket rental. During peak season you can come and learn how to play tennis with an instructor for free.
Around 500 meters from the site, Sandersvig Camping and Tropical Waterpark has a small deer park, and every day during peak season, much to the joy of especially the children, the deer are fed and the audience is allowed to come up close.
But the biggest draw at Sandersvig Camping and Tropical Waterpark is, of course, the Tropical Waterpark itself. When the Danish summer is not ideal for outdoor play and bathing, the 800m2 Tropical Waterpark is always 31 degrees (Celsius). The water is 28 degrees and the entire family can swim together in the big pool as it goes gradually from 0 to 1,5 meters in depth. If you are not into waterslides you can relax in the hot tub or perhaps get warm in the sauna. One free entry a day is included when you are staying as a resident on site.
In addition to spacious lots for campers Sandersvig Camping and Tropical Waterpark also offers the rental of 5 star cabins with room for up to 6 people, private kitchen and bath and living area with a TV. The site has several servicebuildings where you will find access to communal kitchens, living areas and bathrooms as well as access to laundry facilities. During peak season the site also has a mini-market.