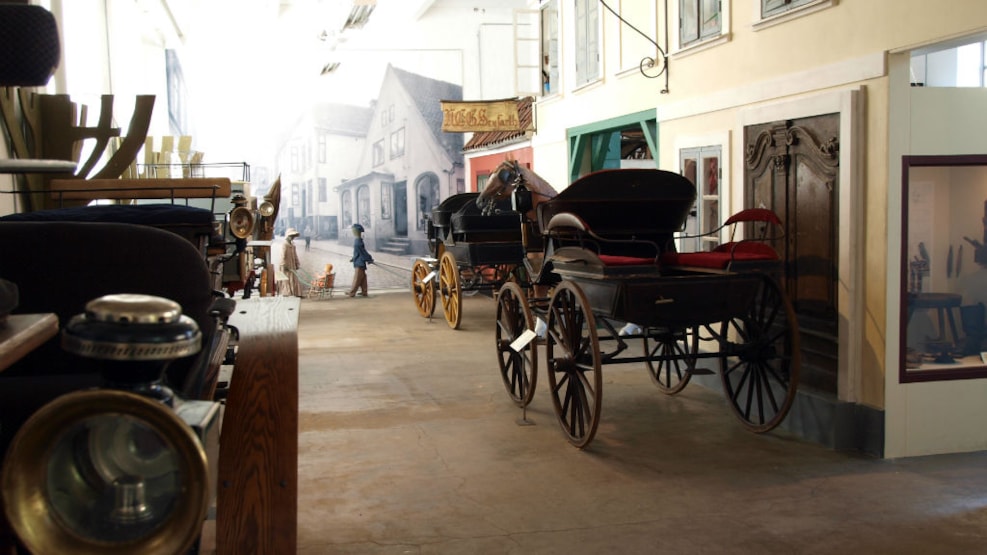 The Schlesinger Carriage Collection
Learn more about the old wagons.
The carriage collection, which are one of the largest, public collections in Northern Europe, is housed in a number of old factory halls in the old Schaumann's Clothing Factory.
The exhibition was originally created by bookseller Johannes Chr. Nielsen, and shows a wide selection of horse drawn veheciles, from pull carts, to working wagons, sleighs and fire extinguishers to stately carriages, many of them arranged in realistic tableaus. In addition to the carriages the collection also houses an extensive archive about wagons and wagon-manufacturing in Haderslev, a book collection and some scientific materials. 
The exhibition also includes several old workshops.
The museum is closed during January, but remains open by appointment.
You can pay by creditcard, Danish Kroner or mobilepay. Euros will be calculated at the exchange rate 7,5 and change will be in Danish kroner.
In the café you can buy coffee, tea and soda. You can enjoy a brought lunch by the ticket office.
Parties of up to 40 people can be received in the ticket office, where you can be served coffee and cake by appointment.
OBS! Your ticket to the Schlesinger Carriage collection also grants you access to Von Oberberg's House and the Ehler's Collection.