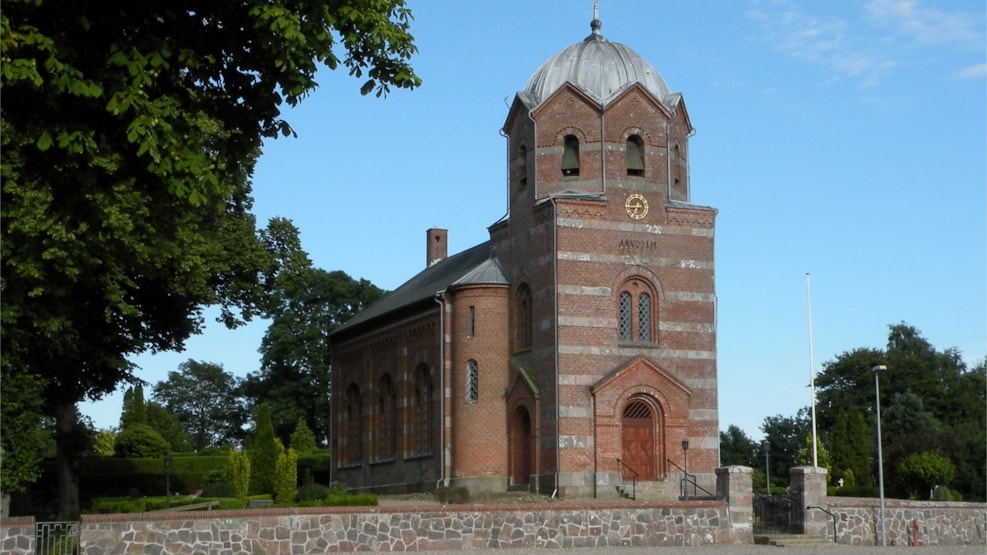 Sommersted Church
Sommersted Church is a village church, with a very unusual architecture, built in 1857-58.
The church is built in an almost new-Romanesque style with red bricks and belts of ashlar stones from the former Romanesque church. It consists of a nave, a three-sided choir to the east and a tower to the west, which is square at the bottom, but octagonal at the top and covered in a dome-like roof over the eight gavels.
The inside of the church is light and harmonic. The nave has a wooden ceiling and the choir a blue-painted, star-studded ceiling. The ceiling in the nave might resemble that of an old basilica, or something completely opposite, a nordic Valhalla. Today, the church has a distinctly Byzantine influence.
The distinct architecture and the beautiful inside makes the church worth a visit. You can take a stroll around the churchyard, and find a memorial of Russian prisoners of war during the First World War, amongst other things. You can also see a dried holy spring, however, the well is still here. According to local legend, it no longer works because a farmer washed is old nag in the spring, thus contaminating it. When you are in the area you can also take a trip to Over Lerte church, which is now a Bell Museum with a large selection of different kinds of bells, from church bells to cow-bells.
If you would like to see the church from the inside, please contact Digger and Verger Flemming Petersen at +45 40 43 00 71 or find an employee at the graveyard.