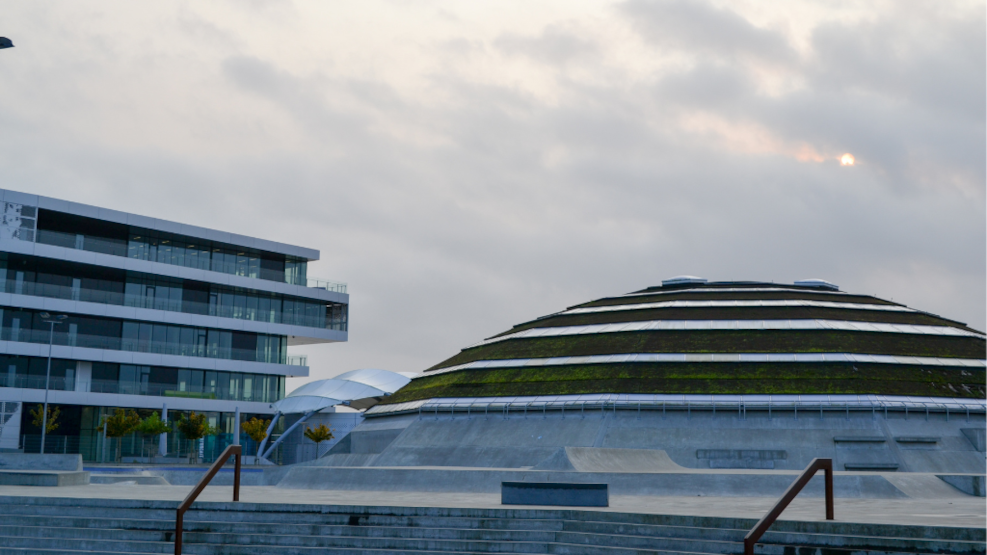 StreetDome - indoor and outdoor skate park
Try your hand at indoor bouldering, have an instructor guide you to the top of Jutland's highest climbing wall and surf around with a skateboard or scooter indoors and outdoors - you just have to remember your own equipment.
Surf on concrete and climb all the way to the top
in Haderslev Streetdome is the fruit of a group of dedicated skaters who set themselves the goal of getting a skateboard park for Haderslev and a municipality that dared to believe in them. You won't find it anywhere else in Denmark. Streetdome is built for skateboarding, inside and out, with ramps and obstacles for all levels. We recommend that you are over the age of 8 and that you learn skateboarding on the spot, as much of the safety lies in the technique, which you e.g. can learn at the Skateboard School, here you also learn about the unwritten rules that exist in a skate park. For more info contact Streetdome.
Climbing
On site, you can also climb both indoors on the boulder wall and on the silo outside. The boulder wall can be used all year round and is at your own risk. The 30-metre-high silo waiting outside is Jutland's tallest and you may only climb here with an instructor who has the legally required safety courses. Climbing with a rope and safety instructor can be booked for NOK 800 per hour, for more information contact Streetdome.
Did you know that...
In the streetdome, it is also allowed to use both scooters, roller skates and BMX bikes, you just have to bring your own equipment.
When can you do what?
Monday: 8:00am - 7:00pm Skateboarding and scooters
Tuesday: 8:00am - 10:00pm scooters
Wednesday: 8.00am - 10.00pm skateboarding
Thursday: 8.00am - 7.00pm Skateboarding and scooters
Friday: 8:00am - 10:00pm Skateboarding
Saturday: 8:00am - 3:00pm Skateboarding and scooters / 3:00pm - 10:00pm Skateboarding
Sunday: 8.00am - 12.00 Noon Scooters / 12.00 Noon - 3.00pm Skateboarding and scooters / 3.00pm - 10.00pm Skateboarding
From May to October there is indoor climbing on Mondays and Thursdays from 7.00pm - 10.00pm