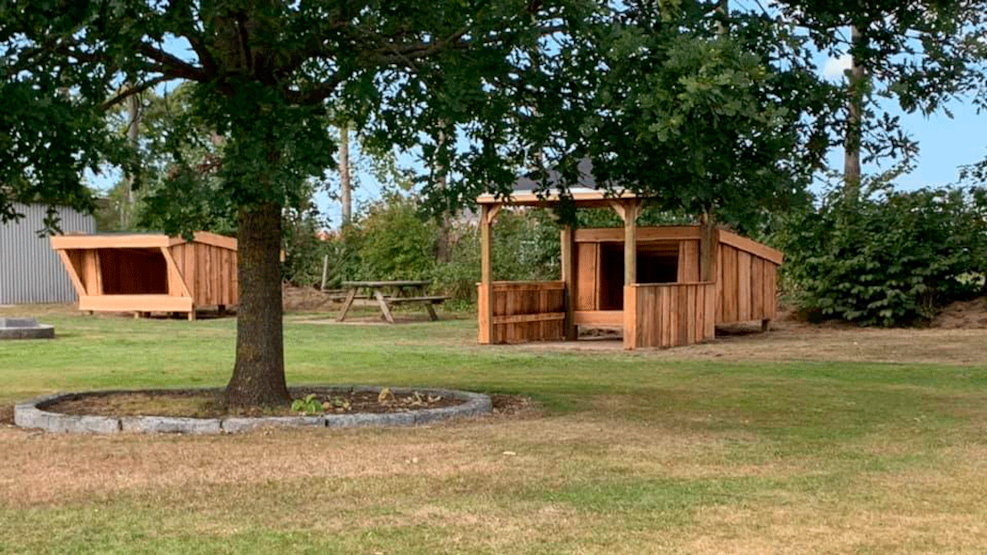 Tour de France overnatning i shelter med grillbuffet
Book a shelter and get really close to the Tour de France
Come and join the party! We will be celebrating Tour de France on the day the peloton rides past Shelter City. Shelter City is located near a main road where you can enjoy a 10-kilometre-long parade with all sorts of entertainment before the peloton passes through. There is plenty of room here to set up your deckchair on the cycling path and get a roadside seat! 
It will be possible to purchase dinner (barbecue buffet) on 2 July and breakfast on 3 July (the day the peloton rides through). Price (Saturday dinner and Sunday breakfast) DKK 250 per person It will be possible to purchase beverages all weekend. Guests are welcome to bring their own food and drink.
The shelter area is equipped with mobile device recharging stations. Bring your own mattress, sleeping bag, etc.
Shelter (sleeps 4) price per night: DKK 600
Price for access to hot tub, toilet and shower: DKK 150 (Bring your bathing costume and towels)
Shelter hire is payable at the time of booking. Once you have booked, we will confirm the booking by email. The email will contain all the information you need. Guests pay for food and access to the hot tub, toilet and shower on arrival.  
If you wish to visit the city of Haderslev, Shelter City is only   3 km from the city centre and about 2 km from shopping facilities.
NB: Sunday is the BIG DAY! For most of Sunday it will not be possible to leave Shelter City by car. The road will be closed until all the Tour de France riders have passed.
We also have tent berths for hire. Price per tent berth: DKK 200.