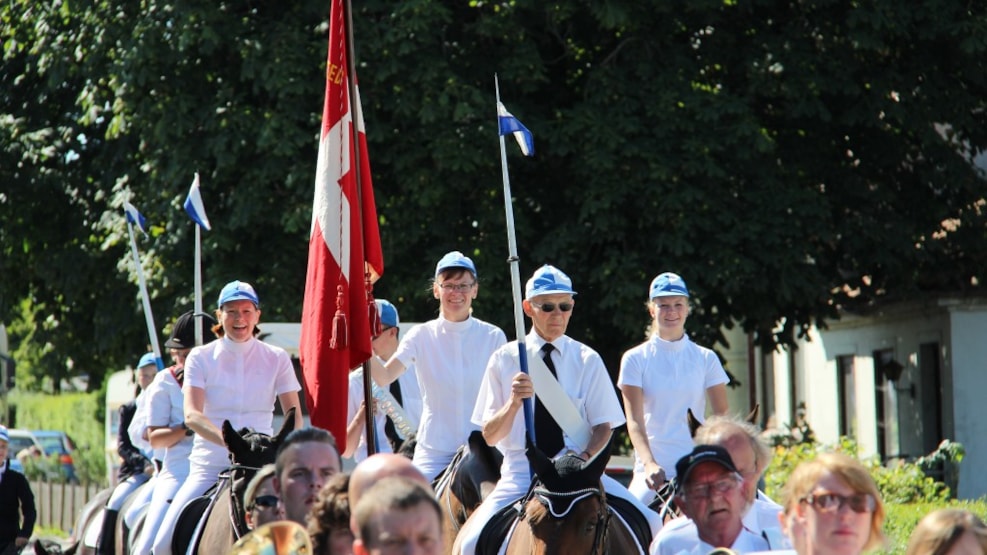 Vedsted Ringriding party
Kom ud og se ringriderfesten i Vedsted - den største ringriderfest i Haderslev kommune!
Tilting-at-the-ring is a stable tradition in Southern Jutland, and most towns, large or small, hosts an annual tilting-at-the-ring festival. The tilting-at-the-ring is a remnant of the jousting tournaments of the middle ages, where two opponents would ride towards each other and attempt to strike each other with lances. In the modern version, the riders aim their lances at rings, which are suspended in strings from a so-called gallow, and they fight for the title of King. All riders ride through the gallow several times, while the size of the ring is gradually reduced; the rider who completes the most rounds is proclaimed King, and subsequently a Crown Prince and Prince is also proclaimed.
In Vedsted close to Vojens, Vedsted Ringriderforening hosts the largest tilting-at-the-ring festival in Haderslev Municipality every year the second Saturday in August, and anyone can come and see the tournament. 
The festival begins on Thursday with a tilting-at-the-ring tournament on bicycles for children and a large lottery. Friday sees the large tilting-at-the-ring lunch with around 600 happy participants and well-known political key speakers. After the lunch there are also tilting-at-the-ring tournaments on bicycles for the adults. 
Saturday finally sees the traditional tilting-at-the-ring tournament, where as many as 200 riders will parade through town and compete in 11 gallows for the title as King. Here, naturally, here will also be delicious ring-riders directly from the grill for the hungry spectators - ring-riders of course meaning the delicious sausages, which are an integral and traditional part of any tilting-at-the-ring festival in Southern Jutland.
So come see the tilting-at-the-ring festival in Vedsted and spend a fun day with the family!