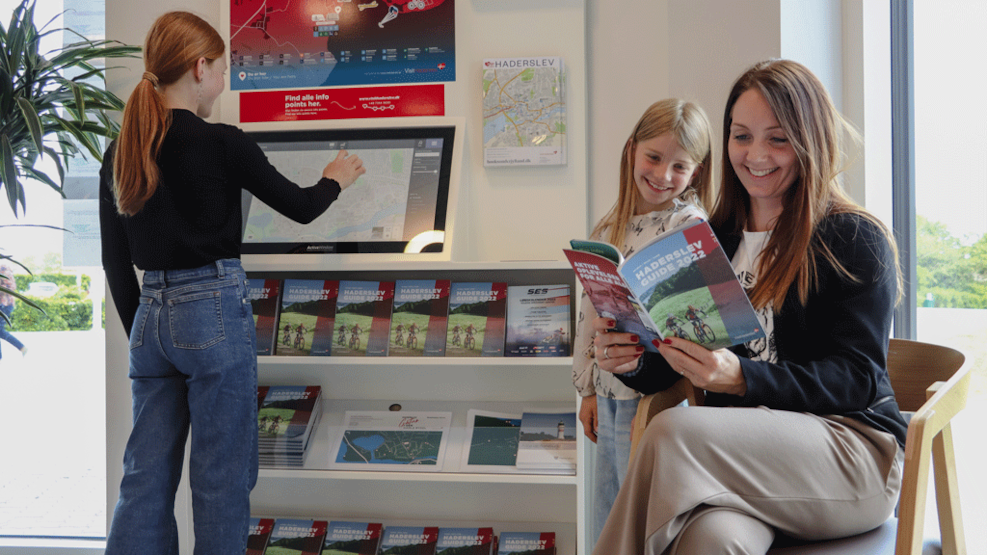 VisitHaderslev
Your official tourist information in Haderslev, a part of Sønderjylland. 
VisitHaderslev is the official tourist information office in Haderslev Municipality. 
We are responsible for marketing Haderslev as a tourist destination and providing inspiration for holidays all year round via our website, social media, Haderslev Guidebook and info points. In the summer months, we organise many activities, including guided tours, and we organise group travel all year round. If you have questions, you are more than welcome to contact us.
Working with local providers, we have set up 16 info points that are designed to inspire our guests. Six of our info points are manned, and therefore provide the kind of personal service you would expect from a tourist information office. 
What is an info point?
An info point is the place to go if you need inspirational ideas for your holiday in Haderslev – or if you want personal service. Every info point has a stand containing brochures, a map of Haderslev, a note book and an interactive screen. The screen displays a weekly events diary and shows you attractions, activities, restaurants, accommodation, etc. Info points are open in the opening hours at their location. 
Six of the 16 info points are manned. Manned info points provide the same kind of service as a tourist information office. They can give you good ideas for your holiday. 
Opening hours 2023
Staffed opening hours and telephone hours
Week 1 - 25: 10:00 AM - 3:00 PM
Week 26 - 32: 10:00 AM - 4:00 PM
Week 33 - 51: 10:00 AM - 3:00 PM
Adress: Apotekergade 11, 6100 Haderslev
Note: We are closed on Danish public holidays, between Christmas and New Year, as well as Constitution Day (June 5th).
Unstaffed opening hours
July - August: 4:00 PM - 5:00 PM
September: 3:00 PM - 4:00 PM
Saturdays: 10:00 AM - 3:00 PM
Where can you find a infopoint?
Manned Infopoints:
Danhostel, Erlevvej 34, 6100 Haderslev
Gammelbro Camping, Gammelbrovej 70, 6100 Haderslev
Sandersvig Camping & Tropeland, Espagervej 15, 6100 Haderslev
Deutsche Bücherei Hadersleben, Aastrupvej 9, 6100 Haderslev
Sønderballe Strand Camping, Diernæsvej 218, 6100 Haderslev
Pinnebergheim, Hejsager Strandby 59, 6100 Haderslev
Unmanned Infopoints:
Apotekergade ved Domkirken, Apotekergade 12, 6100 Haderslev
Tørning Mølle, Tørningvej 6, 6500 Vojens
Aarøsund Færge, Aarøsund Havn 1, 6100 Haderslev
Årø Vingård, Aarø 210, 6100 Haderslev
Kulturhuset Bispen, Bispebroen 3, 6100 Haderslev
Gram Bibliotek, Stadionvej 15, 6510 Gram
Gram Slot, Slotsvej 54, 6510 Gram
Vojens Hallerne, Stadion Parken 6, 6500 Vojens
Meny, Gåskærgade 38-44, 6100 Haderslev
Spar Købmand, hoptrup hovedgade 53, 6100 Haderslev