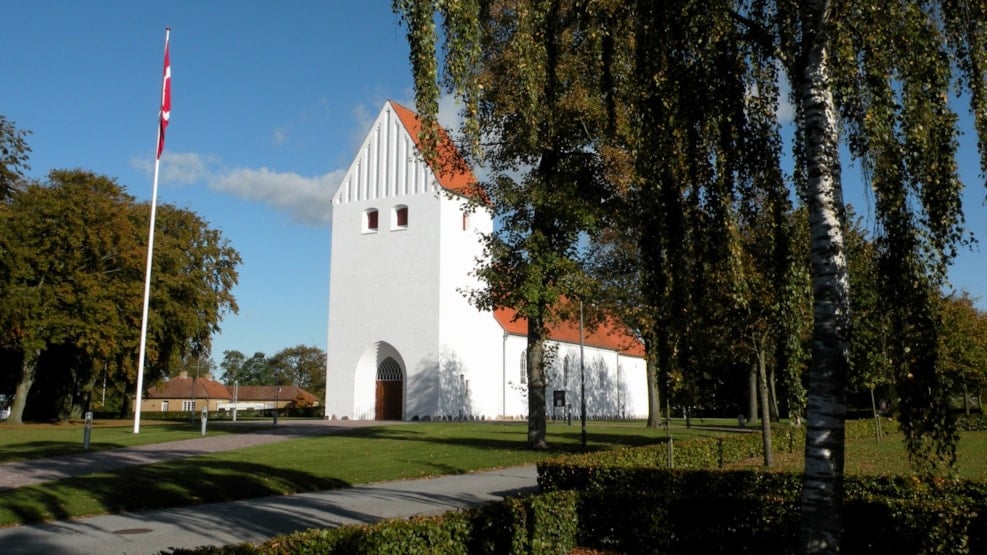 Vojens Church
From "additional cemetery" to the red chapel in Vojens Church: It took some time, before at church was built in Vojens and the cemetery is older than the church.
Vojens Church was built as a reunion-church and was consecrated on September 6th 1926. As a reunion-church the church is built as a typical Danish village church using the red and white colours of the Danish flag.
Vojens had its own cemetery in 1878, but the cemetery was under the jurisdiction of the Jegerup church administration, and the first burial happened here January 28th 1878. It was not long until it was decided to build the red chapel, and from 1883 the dead could be laid aside on the chapel, when the family could not or did not want to keep the deceased in the home. From here, the wish for an actual church only grew.
The red chapel was remodelled and new fixtures were gathered, and the red chapel was consecrated as a church in January 1894 - though still as an annex church belonging to Jegerup. The sermons were conducted in German, so the Danish-speaking locals still had to attend church in Jegerup, where the sermons were held in Danish.
Opening hours:
Monday-Thursday: 8am to 3.30pm
Friday: 8am to 12 noon.