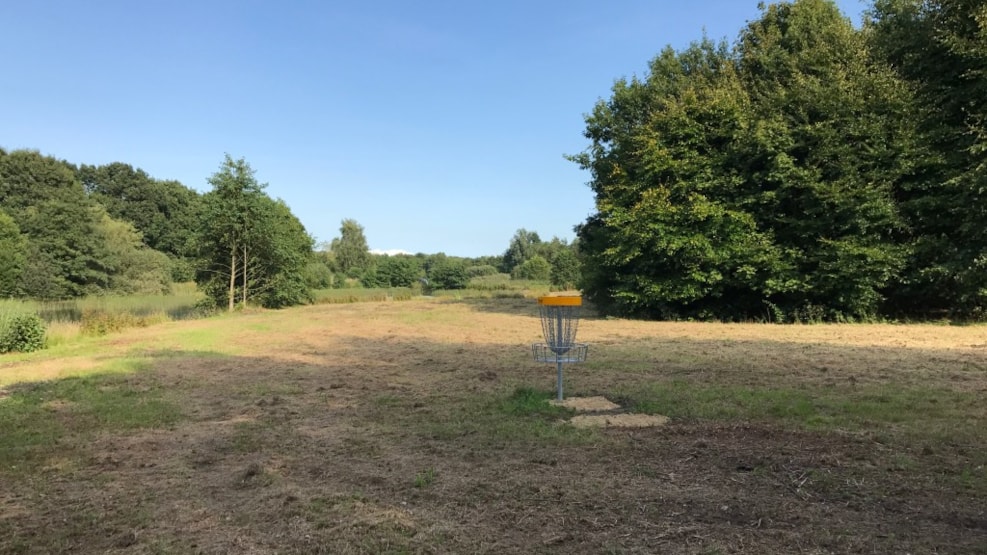 Vojens DiscGolfPark
Come and enjoy a round of Disc Golf at one of Denmark's best Disc Golf Courses!
Vojens Disc Golf Course is located right next to the leisure center at Overgårdsvej in Vojens. It is located in perfect surroundings with water, forest and open fields and offers a course with no less than 18 holes.
Vojens Disc Golf Course if the first in Denmark to use the full DiscGolfPark concept from Finland. The concepts includes cladding the field with mats of artificial grass at the tee-spots, to avoid wearing down the grass to mud and to ensure more control over the drive. In addition to this, it is also a highly handicap-friendly solution.
The DiscGolfPark concept is very concerned with safety. The field is designed with this in mind, ensuring that passers by are not at risk of getting hit.
Disc Golf is a fun and great way to exercise and lays the field for a good time with friends and family.
Remember to bring your own equipment.
The rules of disc golf
Disc golf is played like traditional golf, but with a Frisbee as the golf ball and basket as the hole

Disc golf is played in groups of up to 4 people.

Each player throws from the tee spot (the start) towards the basket (the hole).

The next throw is performed from the where the disc landed.

The player who is farthest away from the basket throws first.

The disc is considered to be in the hole when it is either in the basket or hanging in the chains. Not if the disc is hanging above or below the basket, or if the disc has just touched the basket.

If a disc lands in a lake or on a road it is "Out of Bounds". The player receives a penalty throw and may throw the disc from where it left the course.

The number of throws is noted for each hole and added together in the end.

The player with the fewest throws is the winner.

Enjoy! And may the best player win.