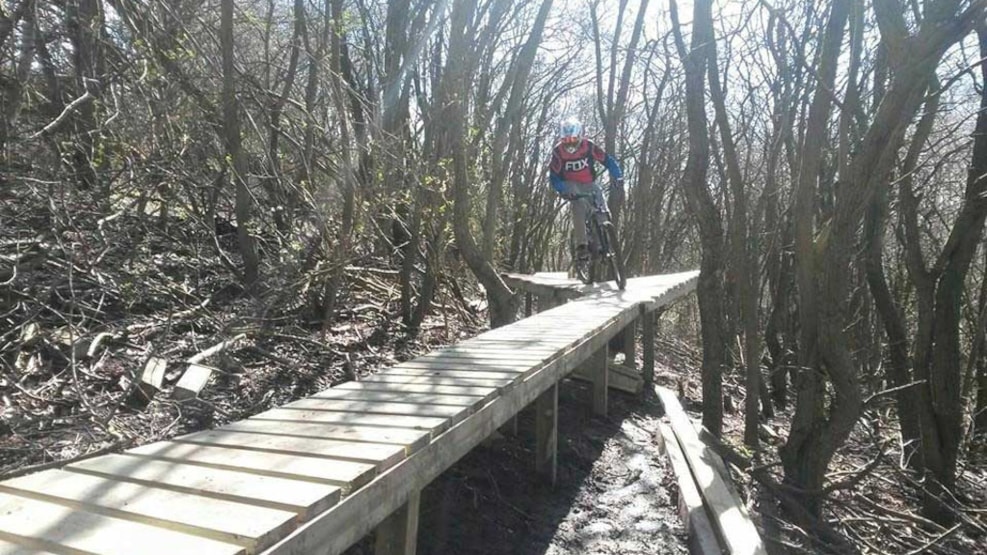 X-Trails mountainbike track
The mountainbike-trail for the adrenaline junkie.
A mountainbike trail for speed freaks!
X-Trails is a mountainbike trail only one kilometre from the centre of Haderslev. The trail is 500 metres long, an intensive, technically demanding, two-man course. The course combines conventional downhill with cyclo-cross. There are multiple choices of route and obstacles. Two or three separate tracks meet and cross each other repeatedly. 
X-Trails are competition courses. Two riders set off simultaneously from a ramp. Each chooses his own route. The winner is the rider who makes the right choices and completes the course first.
The options are legion. Each track is challenging – even if the rider does opt to take the easier route. There are large and small berms, drops, jumps, rock gardens, tabletops and three tough downhill stretches. And one long and two short climbs.
Car parks:
You are welcome to park at the end of Fjordagerbakke on the right-hand side of the road. Please do NOT park on X Yachts' car park. X Yachts receives deliveries of yachts on huge trucks at this car park.
You are welcome to park on the grass at the far end of Fjordagerbakke (where X-Trails ends).
If this is your first visit to X-Trails Haderslev:
You are very welcome to contact X-Trails Haderslev the first time you visit. We will take you through the course. Contact X-Trails Haderslev via Facebook
NB Always wear a helmet – You are advised to wear other protective gear. Cars and other vehicles are prohibited on the field.